Al Salem Nasser
Artist Name
Al Salem Nasser
Residency Program Title
KAUST - Swiss Residency Exchange 2019
Institute Lab Title
Complex Materials Group, Department of Materials, ETH Zürich
Artistic Background
Calligraphy, Sculpture, Multimedia, Installation
Scientific Discipline
Material Science
Gallery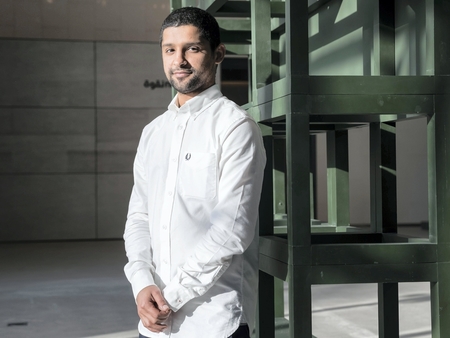 Biography
Biography
Artist Nasser Al-Salem (*1984) lives and works in Jeddah. His artistic work is essentially the Arabic written word, therefore he is first and foremost a calligrapher. His practice pushes the boundaries of this age-old Islamic art by re-inventing it in non-conventional mixed media forms, by using a wide range of tools and materials (such as wood, paper, ink, concrete, glass, lighting technology, silk etc.) and by exploring its conceptual potential.
His exploration of concepts relate to scale, the human and the infinite (or our current perception of the infinite). These concepts aim to reflect on the condition of time, space and the universe as a system that is beyond all religious and profane components.
Info
Project
The sixth artist to participate in the artists-in-labs KAUST-Swiss Residency Exchange since 2016, Nasser Al Salem worked and exchanged with researchers of the Complex Materials Group, Department of Materials, ETH Zürich for a 3-months period in spring 2019.
Website
www.nasseralsalem.com