Drill Hannah
Residency Program Title
Master Series 2020
Institute Lab Title
Dalle Molle Institute for Artificial Intelligence IDSIA
Artistic Background
Acting
Scientific Discipline
AI & Robotics
Gallery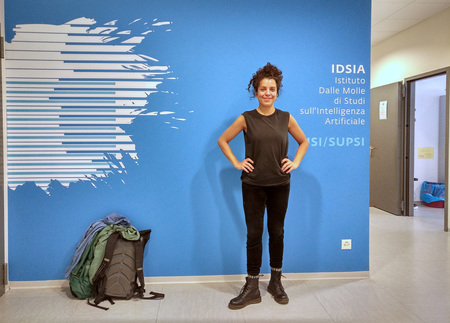 Biography
Hannah Drill is an actress and performance artist from Berlin. She has been studying acting in the Master Theater program at Zurich University of the Arts since 2019.
In her young career she has intensively explored questions about living together in a community and would like to continue to explore interpersonal issues in particular and expand them as research that can be experienced aesthetically. An important step in her professional work, for example, was her involvement in the project "Intimate Strangers" with the group "Welcome Project". There, in an intensive collaboration, the relationship between closeness, distance and borders in the broadest sense was explored and realized performatively. Borders in this context meant country borders, but also physical and interpersonal borders.
Info
Hannah Drill spent three months – July 2020, January and February 2021 - at IDSIA in Lugano, pursuing her Master Series Residency on Robotics & AI. In exchange with researchers of IDSIA, Hannah explored questions and developments on the interaction of humans and machines in the present and future.
An important part of her explorations into AI & Robotics research was the question of intimacy and how we humans could envision a future living in close relation with machines. Discussing her questions with Alessandro Facchini – Logician -, Alessandro Giusti – Professor of Artificial Intelligence for Autonomous Robotics -, and Luca Gambardella – Professor of Computer Science -, Hannah Drill developed a script for a short film, which was then shot at the Robotics Lab of IDSIA.
Website
https://www.schauspielervideos.de/fullprofile/schauspielerin-hannah-drill.html